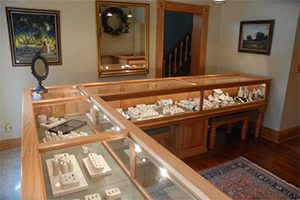 OUR JEWELRY
Using old world craftsmanship and the highest quality materials, the majority of our jewelry is created right here in our Jefferson City, MO store.  Great care is taken to ensure each piece is beautiful, comfortable and exceeds expectations.  We also use vendors from around the globe, enabling us to special order nearly anything imaginable!  Our bridal line of Romance and LaVie engagement rings hold true to our demand for quality above all else and can be easily customized to accommodate stone and metal preferences.  When only the best will do, Kas A Designs is your premier destination.  After all, Life's too Long for Ordinary Jewelry!
OUR STAFF
Our staff of dedicated professionals is second to none. Kas is a graduate Gemologist with over 41 years of experience.  Her daughter, Toni Michelle, is an Accredited Jewelry Professional (AJP) who also has 40 years of experience in the jewelry industry.  Our Master Jewelers perform all types of fabrication, restoration, stone replacement and wax-work. We have a complete gem identification lab and conduct all types of appraisals and can also produce digital images of your jewelry.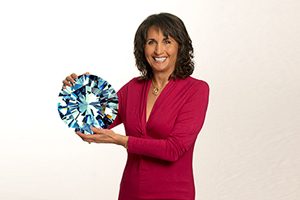 DEDICATED TO QUALITY
While we carry a wonderful collection of fine antique and estate jewelry, our specialty has always been innovative designs that feature exceptional quality colored gemstones and diamonds. With clean lines, sculpted and curved forms of substantial metal, Kas' pieces are designed with comfort, durability and wearability in mind. Kas strictly adheres to her own high personal standards as she strives to create classic and timeless heirloom quality pieces of wearable art that are worthy of being passed on to future generations.